Pastor Sunny Hyde - Senior Pastor and Spiritual Counselor -

aol.com@sonhyd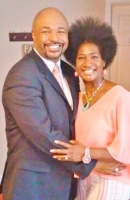 Jer 29:11 For i know the plans I have for you, declares the Lord, plans to prosper you and not to harm you, plans to give you hope and a future.

Dr. Kellie Hawkins-Hyde, D.Min. - Executive Pastor, Evangelist and Itinerant Minister -

gmail.com@khawkinshyde

Philippians 3:14 I press on toward the goal to win the prize for which God has called me heavenward in Christ Jesus.

Sis. Lisa Hyde-Hill - Board Secretary

Prov 3:6 in all your ways acknowledge him, and he will make your paths straight.

Sis. Cordelia Plummer - Board Treasurer

Mat 28:19 Therefore go and make disciples of all nations, baptizing them in the name of the Father and of the Son and of the Holy Spirit

Bro. Warren Millier - Minister of Music

Phil 4:6 Do not be anxious about anything, but in everything, by prayer and petition, with thanksgiving, present your requests to God.

Sis. Sonya Covington - Admin. Assistant/Announcements Clerk

Luke 8:47-49

Then he said to her, "Daughter, your

faith

has healed you. Go in peace.

Sis. Laverne Glover - Usher-board Ministry and Hospitality Leader

Deacon Andre' Sparks - Sunday School Teacher and Van Ministry

Deacon Anthony Jordan - Healthy Meals Ministry and Church Beautification Ministry

Prophetess Terri Wallace - Spiritual Advisor

Sis. Rachel Ullah - Youth Advisor

Sis. Virginia Acklin - Intercessory Prayer and Exhortation

Sis. Monica Jackson - Daughters of Promise And Cornerstone Youth Choir